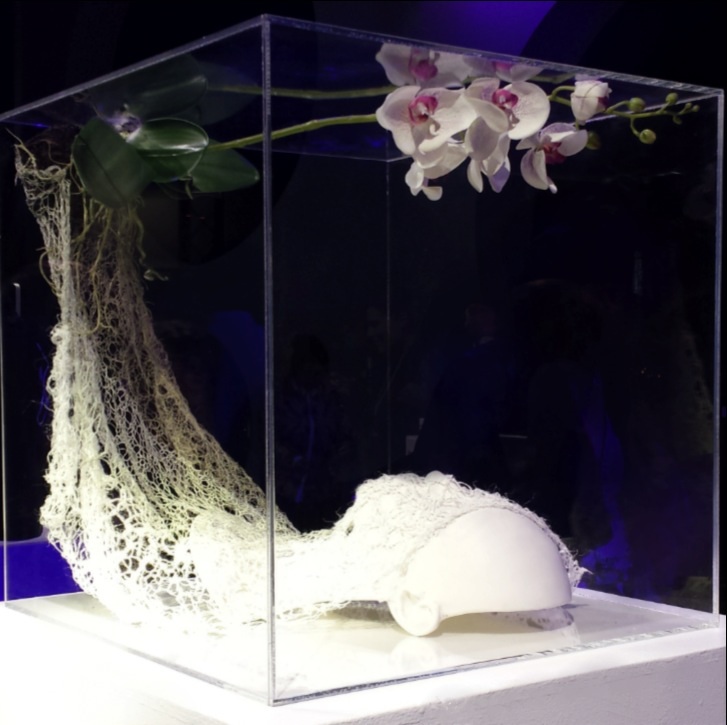 I was recently asked to make an artwork for the "Wearable Futures" exhibition, and was given the word "Seamless". Below is an introduction to those unfamiliar with wearable technology and after a description of the piece I made called "Homempathy".
"Wearable technology is related to both the field of ubiquitous computing and the history and development of wearable computers. With ubiquitous computing, wearable technology share the vision of interweaving technology into the everyday life, of making technology pervasive and interaction frictionless. The history of wearable technology is influenced by both of these responses to the vision of ubiquitous computing."
Firstly, I don't think the future of tech is covering your self in robot structures or plugged into an external language, etc.
I see this as a separation, an aesthetically material difference between the organic (you) and the mechanic (the device or tech). The future for tech and the wearable is the vision of aesthetic emotional harmony, organic unity, a whole and seamless loop of interaction, both invisible and internal.
The future technology is a flower, it's water, it's a teardrop, the soft machine, it's the way you look at the sky, it's emotion. The emotional machine and an empathetic exchange is what I am attempting to illustrate in a sculpture for the exhibition.
My proposed wearable is an internal matrix mesh that evolves when you take a catalyst/tincture that opens the body's reception, through the skins surface, to a empathetic exchange with your directly contactable subject.
Holding a flower you will not only become it, you will absorb the property, the mass, the DNA, the "soul" of the flower, the journey of it's origin, the voyage of the species, the "wearable soul". This exchange in turn grows and becomes an extension of your own internal matrix. Your DNA is "extended", your body absorbs the property needed to enhance and advance your emotional and physical well being. An emotional exchange - it's part emotional evolution, part empathetic homeopathy... Call it "Homempathy".